The 2017 LMA Eastern Canada Region Award for Branding goes to…
So, this happened last night:
Our client Aird & Berlis LLP won the 2017 LMA Eastern Canada Region 'Your Honour' Award in the category of Communications: Messaging Strategy! We are extremely proud of our collaboration with the firm on the complete transformation of their brand including a dramatically refreshed logo and visual identity.
This award, chosen by a panel of judges, recognizes excellence and innovation in the development and implementation of internal and external messaging strategies to broaden the impact of a firm's programs and brand position.
Cubicle Fugitive had the pleasure of working with Aird & Berlis on the creation and complete roll-out of their new brand across a number of exciting, large-scale projects including their new website (and content); business stationary, signage, and social media profiles. We are very proud of their carefully crafted brand that reflects both their high level of legal sophistication and down-to-earth sensibility.
Morgan MacLeod, Andrea Falcone and Jacob Senior of Cubicle Fugitive, and Peter Dueck, the Director of Client Communications & Development at Aird & Berlis LLP, accepted the award at the dinner gala following the LMA Eastern Canada Regional Conference.
In addition to being a conference sponsor, Cubicle Fugitive set up shop on the trade show floor where our Marketing Team caught up with clients, made new connections, and hocked our fun swag.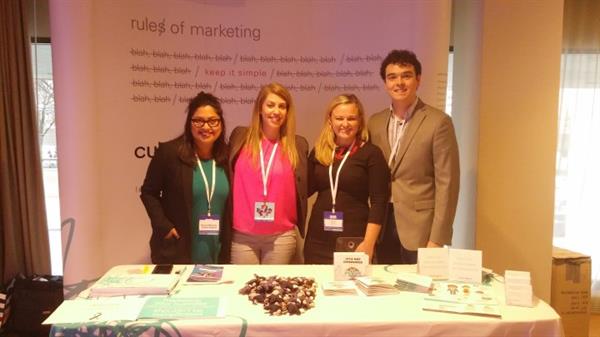 Morgan MacLeod (aka The Ringmaster) presented "Exceptional Client Service Shouldn't be the Exception" to a packed room of legal marketers.